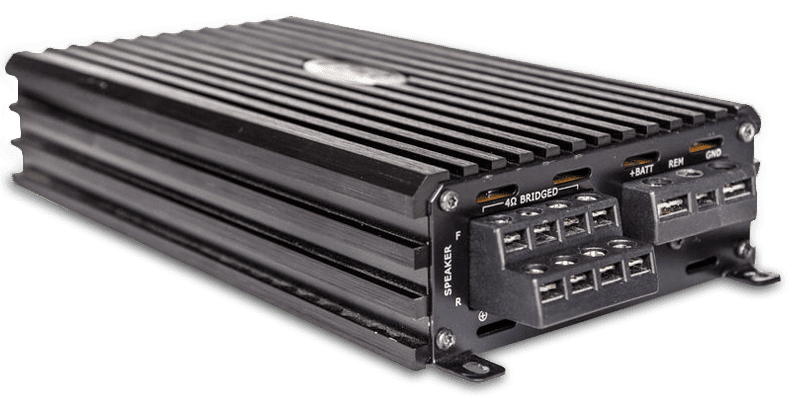 If you've been in the audio industry for a while, then you've likely heard that old-school or classic car audio amplifiers are better than the new stuff. How someone quantifies "better" is somewhat of personal preference. They could be talking about aesthetics or the sound of the product. Whatever it is people like about classic audio equipment, buying and selling vintage audio equipment is big business. Here's a little story a good friend told us about dealing with a pair of older amps.
A while back, a friend dropped off a pair of truly classic car audio amplifiers. We had an Orion Concept 97-3 and a Rockford Fosgate Punch 700X on the bench to check out. The plan was to see how much power the amps made, take some frequency response and distortion measurements and ensure that they would be working properly. Sadly, the Orion almost self-destructed on power-up, and the Rockford had a lot of distortion. Not what we were hoping for, or really, what we expected. So, let's take a look at each amp, what happened and why.
Orion Concept 97-3
The Concept 97-3 was an amplifier released in 1998 as a giant middle finger to the controversy surrounding amplifiers' ratings in SPL competition. With the proliferation of "cheater amps," Orion chose to rate the massive Concept 97-3 at 0.5 watts per channel into a 4-ohm load at 12 volts. Their goal of forcing IASCA, USCA and dB Drag Racing to change the way amps are rated was a foregone conclusion.
Orion on the Bench
We started with the massive Orion amp. We set it up, connected it to our 160 amp power supply and turned it on. Even with no speakers or signal connected, the amp was drawing an incredible 86 amps of current. We shut it down quickly and started looking for problems. Now, we'll make it clear: We are not a repair shop; we test and quantify the performance of products. So, the plan to fix an amp was a bit outlandish but seemed like a lot of fun!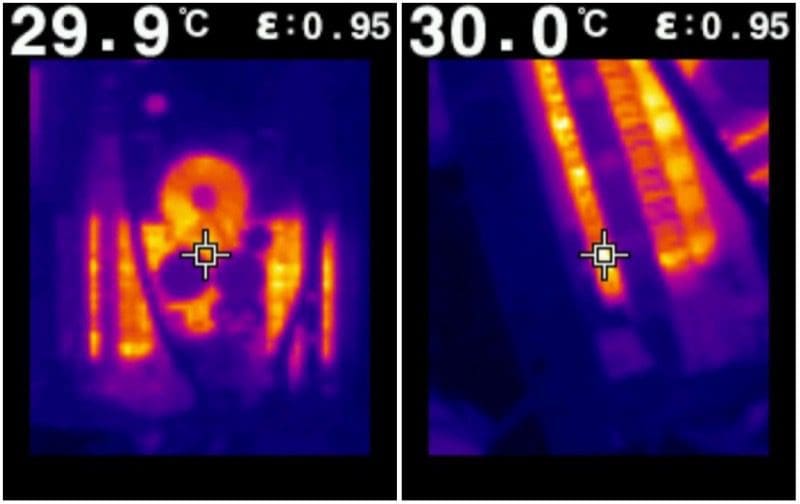 After about four sessions of measuring resistances and voltages with the help of several industry veterans, we found a shorted output device and a pair of shorted driver transistors. We chose to replace all the output devices to make sure everything was fresh.
Vintage Means Old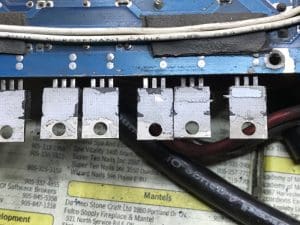 We encountered a few issues along the way. The circuit board clamps to a finned heat sink that fits inside the visible shroud. This secondary heat sink is what makes these amps so tall. The output and switching devices have thermally conductive tape on either side of them to remove heat efficiently. The first problem was that the tape had deteriorated and dried out. Surely this would affect its ability to transfer heat efficiently. Another problem was that the tape glued the devices to the heat sink and clamping bracket. When we tried to remove the bracket, several of the devices ripped apart.
The second major issue with the Orion surfaced after we finished fixing it. Once we had the amp up and running reliably, we set it up to take some power measurements. The Concept managed to make 207 watts on the left channel and 208.7 watts on the right, and 738.4 watts when bridged into a 4-ohm load. The next step was to measure frequency response and distortion. This is where things went weird. The amp was oscillating above 1 kHz. As we mentioned, we aren't a repair shop. Sure, we could chase the signal through the amp and find the problem, but we have other projects lined up.

Rockford Fosgate Punch 700X
The Punch 700X is four-channel amp that was conservatively rated at 87.3 watts per channel and debuted around 2002. On the bench, the Rockford seemed to work well. No strange noises from the power supply, and the output seemed reasonable. Tested individually so as not to tax the power supply, we eked out more than 275 watts per channel into a 2-ohm load, according to our D'Amore Engineering AMM-1 in Dyno Power mode.
We decided to take a look at the frequency response of the amp, so we performed a few high-resolution sweeps using our digital interface and the Room EQ Wizard software. While not a disaster, it does roll off on the top and bottom. Referenced to the peak output at 650 Hz, the amp was down 0.8 dB at 20Hz and 1.27 dB at 20kHz. Not enough to be a problem, but measurable. For reference, most quality amps are flat within a dB from around 10Hz to more than 40kHz.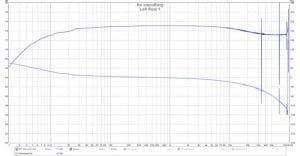 The next step was to measure distortion. We recently upgraded our digital interface to ensure the measurements we take are of the device under test, and not artifacts of our hardware. The new interface measures flat from 5 Hz to 92 kHz, has a signal to noise ratio of -116dBA and a total harmonic distortion specification of less than 0.00032 percent. We always calibrate the interface before each test.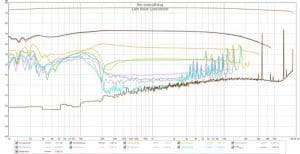 We took a few distortion sweeps of the 700X, and much to our chagrin, it's a disaster. Second order harmonic distortion at a drive level of 2V (1 watt into 4 ohms) was around 5 percent to 6 percent on all channels.
Old and Wrinkled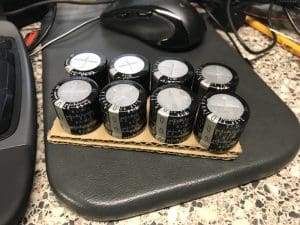 As we were moving the amp around to change connections, we noticed a rattle. A few taps and some shaking revealed that the power supply output caps seemed loose internally. We ordered up eight new Nichicon 4700uF, 50V caps and swapped them out.
As curious as we are, we decided to pry open one of the caps for a look. As you can see, the top of the cap is swollen and it appears the electrolyte has dried up. We hooked two of the caps up to our capacitance tester for some sleuthing. Both caps have a rating of 4700uF at 50V. The first measured 2024 uF and the second cap measured 2012 uF. By comparison, the new Nichicon caps all tested around 4800 to 4900 uF. That's 40 percent of the desired energy storage and filtering capacity. Not good news at all.


Once the amp was back together, we measured it again. Steady state power production and frequency response were the same. We hadn't taken any dynamic power tests beforehand, so we had no reference against which to measure after the replacement.
Thermal Compound Deterioration
As we were taking the amplifier circuit board out of the heat sink, it quickly became apparent that the thermal compound used to help wick heat away from the power supply and output switching devices had dried up. No doubt, it wasn't serving any beneficial purpose. We scraped it off, cleaned up the heat sink and devices, then applied new compound before we put the amp back together.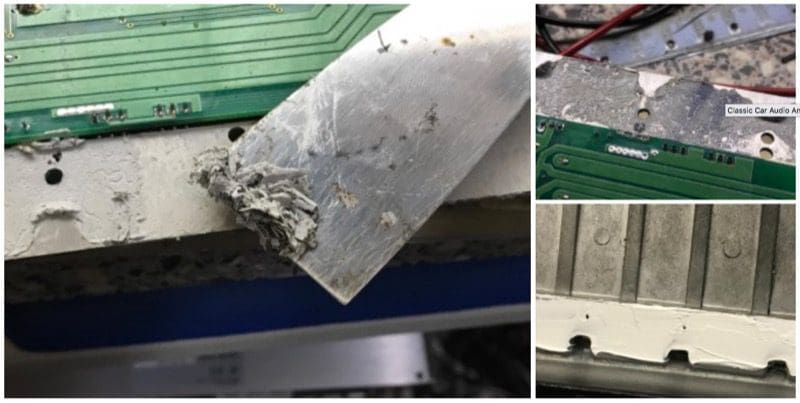 Let Bygones Be Bygones
So, with two truly classic amps failing, is there anything we can discern from this? We invested more than $200 in parts and supplies to repair these amps. In terms of time, well, we likely spent 20 to 25 hours testing, diagnosing and repairing. Someone who fixes amps for a living would be much faster, but you'd still be looking at several hundred dollars per amp to bring them to this point. Eliminating the remaining distortion and frequency response problems may or may not even be possible. By the way, another friend dropped off a Precision Power PC225 to check out. It blew up. Power supply switching devices went boom. Ugh.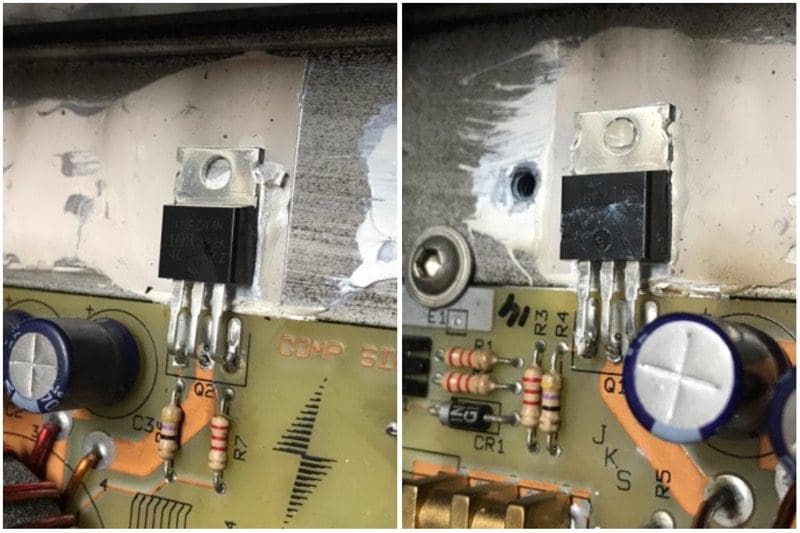 The experience has highlighted that electronics truly don't last forever. The dried-out power supply caps are the tip of the iceberg for the Rockford. Every electrolytic cap on the board should be swapped out. The Orion was filthy inside and required a thorough cleaning. Maybe dirty EQ or mono switches were responsible for the strange frequency response issues? Maybe some of the caps on this amp had dried out as well? The PPI? No idea what its problem is.

Classic Car Audio Amplifiers Might Be Best as Memories
If we were looking for an amp to power our mobile audio system, something old would not be on our list. Sure, maybe they sounded great when they were new, but time has taken its toll. Could they be restored? Absolutely! The circuit boards are in great shape. Is it worth it? If you have a sentimental attachment, go ahead. If you think they these old clunkers will outperform a new design, based on our hands-on experience, that's not very likely. If you want an amp that sounds amazing, just buy a new one. Your local mobile enhancement retailer would be happy to help you choose something with outstanding sound.
This article is written and produced by the team at www.BestCarAudio.com. Reproduction or use of any kind is prohibited without the express written permission of 1sixty8 media.