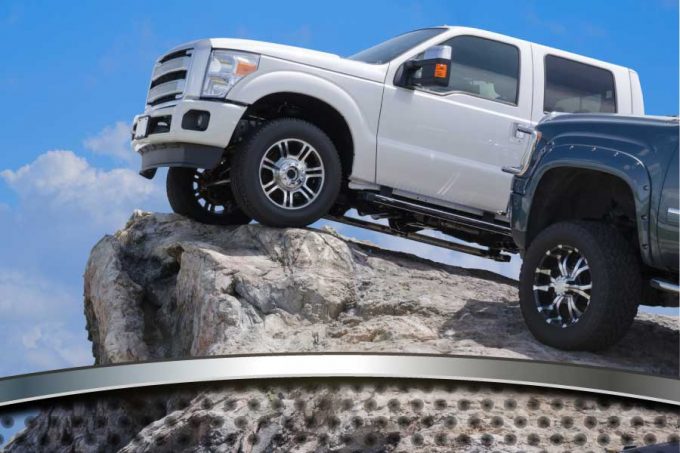 Auto Acoustics in Burlington and Durham is your truck accessory headquarters. Since our humble beginnings in 1990, we have grown into a two-store chain that focuses on exceeding the expectations of our clients. If you own a truck or SUV, changes are we have the products you desire with the quality installation you need.
Bed Covers Make Your Truck more Useful
One of the most-popular accessories we sell is a truck bed cover. They are available in soft and hard designs in one piece, folding and roll-up styles. Adding a bed cover to your truck will keep prying eyes off your cargo while protecting it from Mother Nature.
Truck Steps
Another growing category for us is truck steps. Whether you own a Jeep, SUV or truck, we have a solution for you in a myriad of styles and colors. From your ever-popular nerf bars to N-Fab steps, running boards and even rock sliders, we have you covered. One of our best-selling steps are ones from Amp Research Power Steps that automatically deploy and retract when your vehicle doors are opened or closed. Popular finishes for many styles include black, chrome, stainless steel and textured black.
Bumpers and Lighting
For many people, changing out the bumpers is the best way to make their vehicle stand out from everyone else. Auto Acoustics offers a multitude of styles, along with a large selection of auxiliary lighting, to finish off that rugged look.
Leveling and Lift Kits
Do you want your ride to stand above the competition? Are you tired of that raked look in your truck? Then come see us because we can help. From leveling kits that raise the front end to eliminate unsightly rake to a full-blown suspension lift to give you that road warrior look, we have you covered.
Wheels and Tires
If you are the kind of person who thinks the stock wheels on a vehicle should always be changed, you are in good company. Our team believes that a set of wheels and tires can make all the difference in the looks of your truck, SUV or Jeep. Whether you just want a mild change or something completely off the wall, we can help. We literally have several hundred styles of wheels to choose from, coupled with all the hottest names in tires.
Come Check Us Out
The best way to ensure you are outfitting your ride with the truck accessories that best fit your needs is to come visit Auto Acoustics in Burlington or Durham, or simply click HERE. One of our team will look over your vehicle with you and help you find the solutions that truly fit your unique needs. Let us show you why more and more people choose us every year.