Auto Acoustics in Burlington and Durham have lighting, audio system and accessories to upgrade almost every make and model of UTV, ATV or side-by-side. Whether you're looking for lighting, storage solutions or audio system enhancements, our team of product specialists can help you choose the perfect solution to personalize your four-wheel off-roader. Let's look at a few of the most popular options we offer.
Side-by-Side and UTV Audio System Upgrades
There's no denying that being able to listen to your favorite music while bombing down a trail can make a day of fun even more enjoyable. We carry premium audio solutions from JL Audio and Kicker that offer reliable, high-performance sound, even at crazy volume levels. JL Audio's Stealthbox speaker enclosure and subwoofer systems for Yamaha, Can-Am, Polaris, Honda and Kawasaki vehicles are great ways to add or upgrade sound on a side-by-side. Combined with a high-power water- and mud-resistant amp or two, you'll have great sound, even if the water's up around your waist.
You can choose from source units with Bluetooth so that you can stream audio from Pandora, iHeartRadio and Spotify from your smartphone. In addition, we offer SiriusXM solutions so you can listen to genre-specific programming anywhere in the state. We can even add a subwoofer to many side-by-sides and UTVs, so you can crank the music and feel the bass in your chest and behind.
Lighting Upgrades Add Style and Safety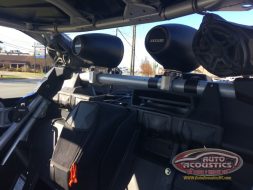 Another popular upgrade for these powersports vehicles is lighting upgrades. Whether you're after a light bar or pods, upgraded headlight bulbs or accent lighting, Auto Acoustics can create a solution. When the sun starts to set, being able to see where you're going and what obstacles are in your path is crucial. We can install, aim and wire a lighting upgrade into your vehicle to make your adventure safer once it's dark.
When it comes to accent lighting, the sky's the limit. We have RGB LED lighting for under the vehicle and the interior. In addition, we offer water-resistant rock lights. Finally, if you have a UTV on a farm or for property maintenance, we can add work lighting to make after-dark tasks easier and safer.
Upgrade Your UTV, ATV or Side-by-Side at Auto Acoustics
The team at Auto Acoustics offers a variety of accessories and upgrades to enhance and personalize your powersports vehicle. We invite you to visit our store in Burlington or Durham to find out about the solutions that are available for your UTV, ATV or side-by-side. If you can't get to one of our stores during regular business hours, give us a call or send our team an e-mail using the online contact form.