Drop by Auto Acoustics in Burlington or Durham if you're shopping for a marine audio system or lighting upgrades for your boat. We carry the top names in marine audio, and our product specialists can design a sound system that will make a day spent on the water even more enjoyable.
Marine Audio Systems
Auto Acoustics is proud to offer JL Audio and Kicker marine speakers, amplifiers, subwoofers and source units. What makes these products unique is that they're designed from the ground up for use in marine conditions. They're water-resistant, so waves and rain won't damage them or allow water into your boat. They can handle prolonged exposure to the sun's UV rays, so they'll continue to look good and deliver outstanding performance for years. Best of all, the products sound great, so you can enjoy some background music while rafting with friends or blast your favorite tunes while waterskiing or wakeboarding.
Our product specialists understand the challenges of creating a great sound system in a boat. We'll work with you to choose the right size and quantity of speakers and subwoofers, the best amplifiers and an easy-to-use source unit with all the features you could ever want. From there, our expert technicians will integrate those products into your boat so that the system will sound amazing, look great and perform fabulously for years.
Lighting Upgrades for Boats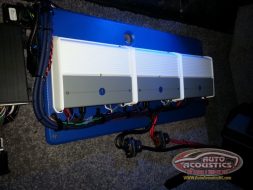 Another popular category for Auto Acoustics is marine lighting. Many of the speakers we offer have integrated RGB LED lighting. The color can be adjusted using an app on your smartphone. We can supplement these speakers or add a dedicated accent lighting solution to your boat for the look you want. Best of all, our lighting systems make it safer to move around the boat before the sun comes up or after it sets. For instance, adding lighting under the main platform of a pontoon boat is a popular upgrade.
Expert Marine Installation Services
Whether you're having the radio in your boat upgraded to one that includes Bluetooth, or we're installing a concert-quality sound system with tower speakers, subwoofers and multiple listening zones, our expert technicians take the utmost of care in the work they do. First, we ensure that equipment is mounted securely so it will stay in place as the boat plows over and through waves. Next, we use wiring that's sized appropriately so that amplifiers, speakers and source units sound their best. Finally, we make sure every aspect of the system is configured correctly to deliver optimum sound quality and output. In short, we optimize every part of the system installation to make sure you get the most performance possible from your investment.
Upgrade Your Boat's Audio System at Auto Acoustics
From a simple speaker replacement to a complete system with illuminated speakers, subwoofers and tower speakers, Auto Acoustics in Burlington or Durham has the solutions to meet your needs and exceed your expectations. We invite you to visit one of our stores and speak with a product specialist about your project. If you can't get to us during regular business hours, give our location closest to you a call or send our team an e-mail using our contact form.